Crypto.com Referral Code:
Crypto.com Promotion Summary:
Crypto.com App Referral Code: g236xp4vmd
Crypto.com App Referral Link: https://crypto.com/app/g236xp4vmd
Summary: "g236xp4vmd" is the Crypto.com referral code, receive US$25 worth of CRO sign-up bonus when you sign up with Crypto.com and stakes for a Ruby card (US$500 worth of CRO) or above. Crypto.com's T&Cs apply.
What We Like About Crypto.com:
Simple interface for users and newbie friendly.
Supports buying of cryptocurrencies with 0% Credit/Debit Card Fees for the first 30 days.
Earn CRO rewards and a wide range of benefits such as Spotify + Netflix + Amazon Prime reimbursement (depending on the card tier you hold).
Crypto.com Refer-a-Friend Program: Get US$25 worth of CRO bonus when you refer a friend who sing up using your referral code and they stake for a Ruby card or above.
Crypto.com Review
About Crypto.com
From Investopedia website:
"Crypto.com is a cryptocurrency exchange that supports trading, investing, staking, wallets, NFTs, and more. This exchange offers more than 150 different currencies, reasonable fees, and discounts for those who hold a significant stake in Crypto.com Coin (CRO). Its ecosystem of crypto-related products could make it a good choice for those looking to do a lot with their cryptocurrency..
0% Credit/Debit Card Fees
Crypto.com allows users to buy cryptocurrencies hassle free using credit/debit cards without any fees for the first 30 days. We wanted to stake CRO quickly and hence we used a Singlife debit card to purchase CRO to enjoy no FX fees and a bonus 0.5% return on our Singlife account (note: bonus return runs until 31 December 2022, Singlife T&C apply). We recommend using a debit card instead of a credit card to purchase cryptocurrency as some banks may charge an advance fee for crypto related payments.
Supports $MATIC and Polygon Network
Crypto.com allows users to buy $MATIC (Polygon) and transferring to external wallets such as MetaMask requires a very low gas fees. We personally like this because bridging $MATIC from Ethereum to Polygon network cost a high amount of gas fees. As I needed $MATIC to trade some Non-Fungible Tokens (NFTs) on OpenSea.io, Crypto.com allowed me to do so easily without hassle. (Important Note: to select "Polygon" network instead of "ERC20" network if you want to send $MATIC to Polygon network.)
Different Card Tiers
Cyrpto.com has different card tiers to cater different lifestyle of customers. We started off staking a Ruby card to enjoy the referral benefit (US$25 worth of CRO bonus). Here is the comparison list:
Our Card Usage Journey
We received our card within 1-2 weeks after staking S$500 CRO and KYC. One of our best unboxing experience so far, we loved the metal finishing!
Crypto.com Visa Debit Card is now our secondary card for expenses which would otherwise may not get a cashback on our main credit card. We are pleasantly surprised to see that medical bills are also eligible for the 2% cashback (in CRO), which we previously did not receive cashback for medical balls using our other credit card. Click here to learn more on which merchant codes have restrictions on CRO rewards, . We'll continue to monitor the usage of the card may consider to upgrade to the Royal Indigo / Jade Green tier.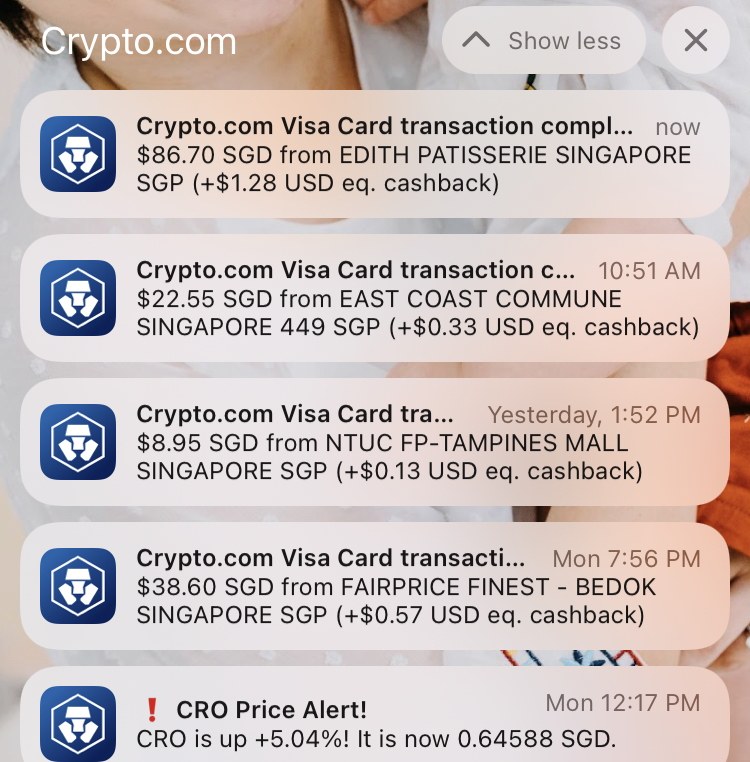 Which Other Crypto App We Like?
Hodlnaut is running a referral programme where users can get USD 30 bonus in kind using our referral code. Click here to read our review on Hodlnaut.
Reference: www.google.com.sg
Reference: www.bing.com